Clear Channel Outdoor Secures 10-Year Partnership with City of Austin to Remaster Advertising and Sponsorship Opportunities at Austin-Bergstrom International Airport (AUS)
Renewal Lands as New Study Shows Airport Ads are Ready for Takeoff, Passenger Levels in the U.S Reach New Highs
New York, NY — Clear Channel Outdoor, Airports Division, the Americas-based airports business of Clear Channel Outdoor Holdings, Inc. (NYSE: CCO), today announced a new long-term 10-year contract with Austin-Bergstrom International Airport (AUS). The contract began April 1, 2023, and continues CCO's commitment to revolutionizing advertising and sponsorships at AUS, elevating the airport's status as a destination for brands to connect with travelers. This comes on the heels of a record setting 2022, where CCO's sales execution drove AUS to achieve its highest advertising revenue in history since the inception of the media program in 2010.
This awarded contract reflects CCO's expertise and a 13-year track record of successful collaboration with AUS. This win comes as new findings from a comprehensive consumers insights study, commissioned by CCO and conducted by Nielsen-Scarborough, reinforce airport advertising is an effective medium for brands to reach a valuable audience of Frequent Flyers and is an effective tool for growing brand awareness and engagement.
83% of Frequent Flyers take notice of airport advertising associating it with high-quality brands.

56% of Business Frequent Flyers remembered ads after seeing them in an airport and afterwards actively pursue them (49%).

Actions include visiting a brand's website (47%), downloading an app (36%), and sharing word of mouth via a colleague (26%).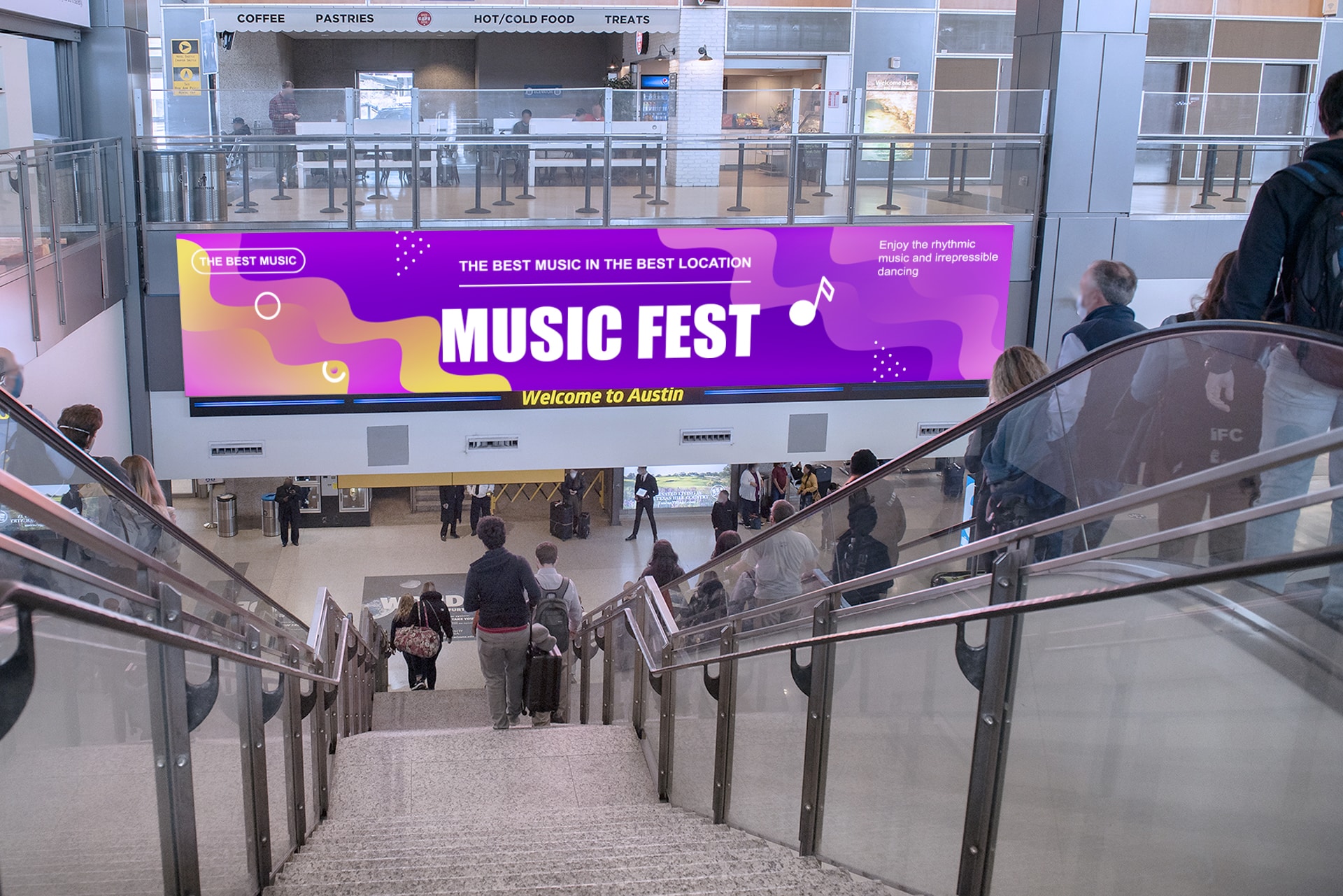 The AUS contract aligns with the recent surge in air travel among U.S. passengers during the Fourth of July weekend. Current data from the U.S. Transportation Security Administration (TSA) reveals that between Thursday, June 29, and Sunday, July 2, 10.7 million passengers underwent screenings, setting travel records nationally. Notably, on June 30 alone, nearly 2.9 million individuals passed through checkpoints nationwide, surpassing the previous record set on the Sunday after Thanksgiving in 2019. This achievement occurred despite airlines operating about 2,000 fewer flights than on the previous record day.
Following this trend of growth, AUS experienced several busiest departure days during Formula 1 2022 and SXSW 2023. This accelerated growth in passenger activity at AUS underscores the city's thriving population, with the Austin Metro area adding nearly 63,000 residents from 2021 to 2022, boasting a growth rate of 2.7%. Specifically, AUS airport passenger traffic growth this March was up 6.52% compared to March of 2022, with over 1.9 million departing passengers. This passenger traffic is excellent for brands looking to reach consumers who studies show are receptive to airport advertising.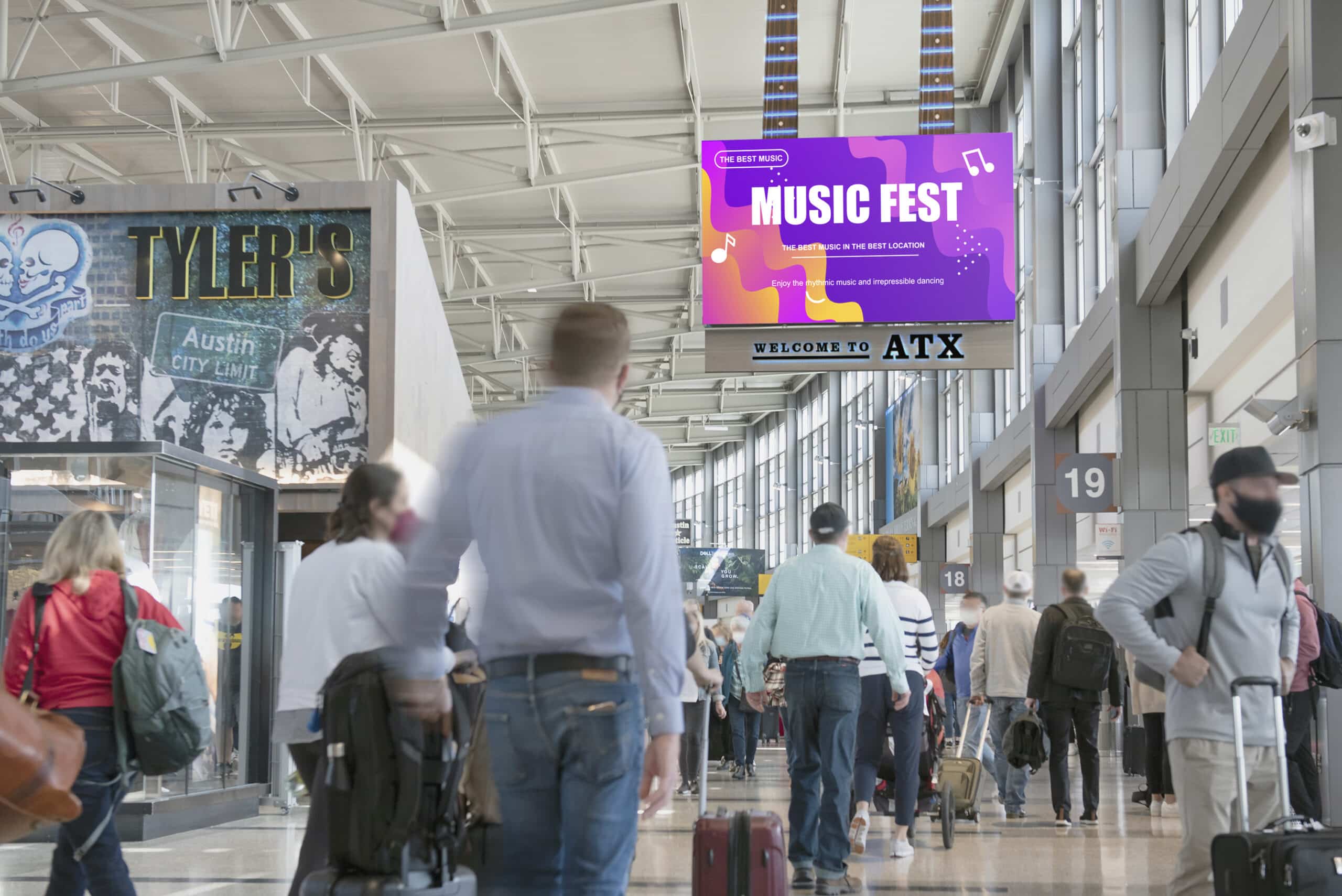 "Our in-terminal advertising and media program is a source of non-aeronautical revenue that contributes to the financial health of Austin-Bergstrom International Airport," said Mookie Patel, Chief Business & Finance Officer, Austin-Bergstrom International Airport. "This contract will generate significant revenue for us to invest into facility and service improvements. We look forward to working with Clear Channel to deliver a dynamic and engaging advertising environment for our passengers."
CCO's dedication is further underscored by a substantial capital investment that sets new records for initial investments and ongoing support throughout the partnership that includes plans for an event and visitor welcome center. In addition, CCO will introduce four distinct digital networks meticulously tailored to cater to diverse advertisers' needs and goals, empowering brands to amplify their messages with precision and impact.
"Through our partnership with the City of Austin, Clear Channel will raise the bar transforming Austin-Bergstrom International Airport's media and sponsorship program," said Morten Gotterup, president, Clear Channel Outdoor, Airports Division. "Our industry-leading innovation, experience and design ensure that AUS will be among the best of the best airport media programs for years to come."
About Clear Channel Outdoor Holdings, Inc.
Clear Channel Outdoor Holdings, Inc. (NYSE: CCO) is at the forefront of driving innovation in the out-of-home advertising industry. Our dynamic advertising platform is broadening the pool of advertisers using our medium through the expansion of digital billboards and displays and the integration of data analytics and programmatic capabilities that deliver measurable campaigns that are simpler to buy. By leveraging the scale, reach and flexibility of our diverse portfolio of assets, we connect advertisers with millions of consumers every month across more than 500,000 print and digital displays in 21 countries.
Follow & Like: LinkedIn, Twitter, Instagram, Facebook
Contact: Jason D. King, SVP, Corporate Communications & Marketing, Clear Channel Outdoor, jasondking@clearchannel.com, 212.812.0064